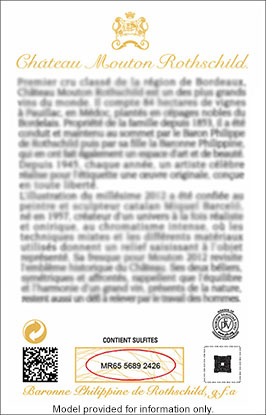 Identify your bottle (2005 vintage and later)
We have detected an irregularity during this first level of control.
Please contact the Château as soon as possible.
Contact us by mail
Château Mouton Rothschild is committed to responding to you as soon as possible.

Disclaimer
Château Mouton Rothschild may not be held liable for any use of information received for whatever purpose. The company is not liable for any use that might be made of the codes tested on this site for commercial, wrongful or promotional purposes.
This information is non-contractual and for personal use only.
This site is not intended to certify the authenticity of bottles of Chateau Mouton Rothschild. No legal conclusions regarding identification of the bottle may be drawn from use of this first level of control.