From the Médoc…
Château Mouton Rothschild spans 90 hectares (222 acres) of vines to the north-west of Bordeaux, on the edge of the Médoc peninsula, itself situated, as its name indicates, in medio aquae, amid the waters: those of the Gironde estuary to the east and of the Atlantic Ocean to the west. The Médoc vineyard, which dates back to Roman times, now covers around 16,500 hectares (41,000 acres). The vines are planted on a narrow strip of land 80 km long and 5 to 10 km wide, close to the river, which irrigates the soil in depth and moderates differences in temperature. Bordering the northern limit of the Landes forest, the Médoc benefits from the mildness of the ocean climate while also being protected from its excesses.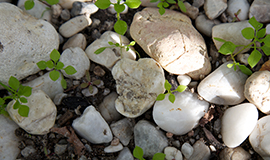 Gravelly soil
Made up of gravel – stones and pebbles which retain the heat of the sun – mingled with sand and some clay, the Médoc soil is poor and unsuitable for growing anything other than vines, which produce the finest wines in the world. The thin and poor, gravelly soil extends down several metres over a clay-limestone base. The vines give elegant, powerful, richly tannic and long-lived wines.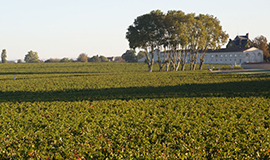 Topography
The topography consists of a series of hillocks, generally less than 40m high, separated by lower-lying land. Their gentle slopes favour natural drainage and exposure to sunlight. The best vines often grow on these hillocks, which give their name to certain famous châteaux: Mouton doubtless comes not from the animal but from "motte" or "mothon", an old French word meaning a rise or mound, while Lafite comes from "faîte", or ridge, and Cos d'Estournel from "côte", or slope.
…to Pauillac
As in every great winegrowing region, the vagaries of geology and microclimate produce wines of different styles and quality, some of which have to content themselves with generic appellations: Médoc, Haut-Médoc or Bordeaux. The elite are to be found within a handful of prestigious local appellations such as Margaux, Saint-Julien and Saint-Estèphe. One of the most famous is certainly Pauillac, where the Cabernet Sauvignon grape, first planted there in the early 19th century, reaches its finest expression. The 1,200 or so hectares (3,000 acres) of the Pauillac appellation include three of the five "Premiers Crus Classés du Médoc et de Graves" (Médoc and Graves First Growths), Lafite, Latour and Mouton. That glorious trio is surrounded by 15 of the 60 Médoc estates to feature in the famous 1855 classification.