The Vat Room

The Vat Room

The Vat Room

The Vat Room
Harmony of architecture and tradition
The new vat room at Mouton Rothschild ushers in an ambitious era in the estate's history. Of high technical quality, it is also faithful to the architectural style and construction materials of the Médoc. 70 metres long, built on two levels linked by elegant metal pillars, it harmoniously combines wood and steel while remaining true to the Mouton tradition of oak vats, of which there are 44, plus 20 in stainless steel.
At the cutting edge of technology, the gravity-feed vat room ushers in a new era in Mouton's history.

Built on two levels linked by elegant metal pillars in a harmonious marriage of wood and steel, it remains true to the Mouton tradition of oak vats.

Of different size, the vats correspond to the different parcels of the estate, helping to optimise both selection at harvest-time and the blending of the wine.
At each harvest, Mouton Rothschild seeks to express the genius of each parcel and the quintessence of each variety planted in the vineyard.
Philippe Dhalluin, Technical Manager
Revealing the quintessence of each variety
The new vat room uses gravity-feed technology in order to keep the grapes intact and preserve all their qualities: the grapes, carefully sorted and lightly crushed, are fed into the vats by the action of gravity alone. The oak and stainless steel vats respect the ancient know-how of Mouton Rothschild, while their number and varied size mean that each parcel and each variety can be vinified separately, thus optimising both selection at harvest and the blending process. The choice of oak, a natural material taken from the best French forests, has the advantage of allowing the wine to breathe and to make vinification easier.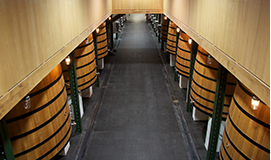 VINIFICATION
The must – grape juice – is transformed into wine in several stages. Crushing bursts the grapes to release the juice, which feeds the yeast on the grape skins. Fermentation can now begin: the yeast gradually transforms sugar into alcohol. At the same time, the pigment and tannins contained in the grape skins spread into the fermenting must, giving the wine colour and structure. Malolactic fermentation then refines the wines by naturally reducing their acidity.
The new vat room at Mouton Rothschild