The birth of a First Growth
The Château Mouton Rothschild vineyard, mostly situated on a hillock called the "Plateau de Mouton" which rises to 27m above sea-level, is planted on very deep gravelly soil with the varieties typical of the region: Cabernet Sauvignon (81%), Merlot (15%), Cabernet Franc (3%) and Petit Verdot (1%). These proportions are not reflected identically in the wine, because the blend varies according to the character of each vintage. However, Cabernet Sauvignon always predominates: it is Cabernet Sauvignon that gives Mouton its rich tannins, its wealth of aroma and flavour and its ageing capacity, while Merlot, an inseparable companion, brings suppleness, roundness and exceptional length. As with other top Médoc wines, the vineyard is densely planted – 10,000 vines per hectare – and the average age of the vines is around 44 years.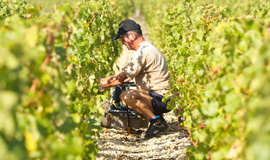 The harvest
The grapes are hand-picked and placed in open baskets that keep them intact. After destemming, they are hand-sorted on vibrating tables. Those that pass this rigorous test are transferred into mobile bins and fed into the fermentation vats by the action of gravity alone. Thus, from vine to vat, the fruit is not subject to any non-natural pressure or constraint.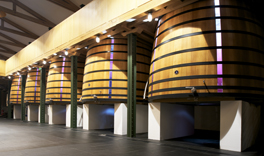 Vinification
At the cutting edge of technology, the gravity-feed vat room ushers in a new era in Mouton's history. Built on two levels linked by elegant metal pillars in a harmonious marriage of wood and steel, it remains true to the Mouton tradition of oak vats. Of different size, the vats correspond to the different parcels of the estate, helping to optimise both selection at harvest-time and the blending of the wine. The vast majority of the vats at Mouton are made of oak (44 vats, fitted with transparent staves, so that the vinification process can be monitored), the others are made of stainless steel (20 vats).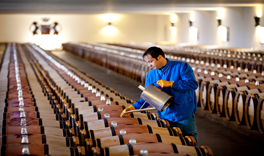 Maturing
After vinification, the wines are matured in new oak barrels and the various stages in the maturing process are carried out in the traditional Médoc manner, including topping-up, and fining with egg-white which is intended to clarify and stabilise the wine by precipitating the particles suspended in it. During the maturing process, which lasts about twenty months, the barrels are transferred from the Grand Chai to the second-year cellars, where the wine stays cool until the end of its stay at the Château.