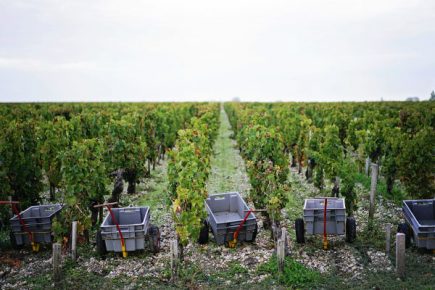 2017 harvest at Château Mouton Rothschild
A precocious vine cycle combined with a summer drought meant that picking started particularly early this year. However, the harvest lasted an exceptional four weeks.
After a dry summer with average sunshine and slightly higher-than-average temperatures, the white grapes were picked between 30 August and 5 September. Picking of the red grapes started on 7 September at Château Mouton Rothschild and ended on 29 September. The berries were rather small and showers in September came too late to swell the grapes. The wines are rich and deeply coloured, with fine tannic structures, full-bodied and fresh. Yields were lower than average on account of the drought.
We finished running off the wines on 20 October and started blending in early November.
As is the case every year, the pickers were able to have lunch in the harvest refectory, where the meals were prepared by a team of cooks, most of them vineyard workers from our estates.